| | |
| --- | --- |
| | |
| | |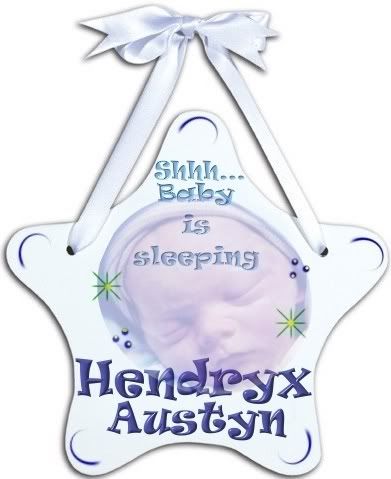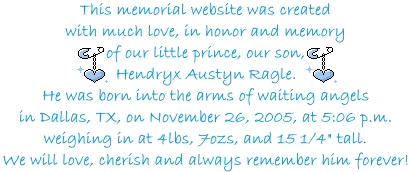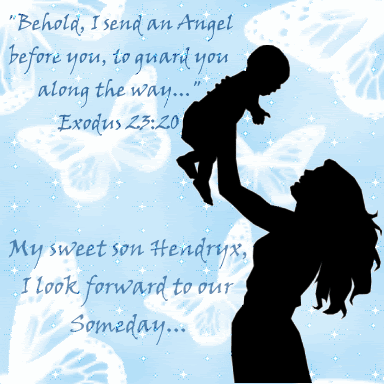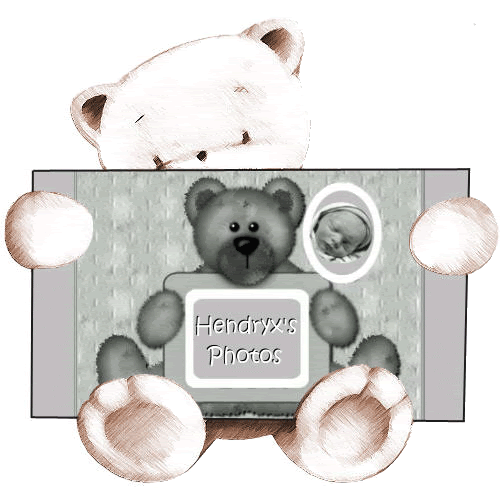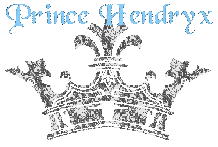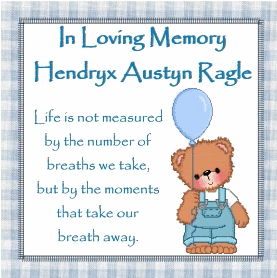 You leave me much against my will


~Edna St. Vincent Millay~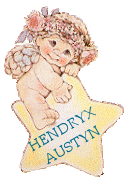 A sweet baby boy~the colors light blue,
A son for Mommy and Daddy~a dream come true.

Mommy's handsome little pride and joy,
Big Sister Kaytlin's best friend and favorite toy.
Daddy's little Texas Tech and Cowboy's fan,
Momo and Papa's little right hand man.

Eight sweet precious months with you,
Dreaming of the man you'd be and the things you might do.
Taken by God the night that you died,
Chosen because you're so special, to stay by His side.

Blessed with a chance for a short hello and sweet kiss goodbye,
Is it wrong to wonder and question why?
Aching arms and broken hearts from you not being there,
All this pain seems so unecessary, so unfair.

There's peace in knowing that you're alright,
because you're surrounded in God's warmth and light.
Our sweet angel, our sweet son, we will go on loving you and wondering what might have been,
Until the day we go to Heaven and finally be with you again.
~Written by Mommy~
(Christine Beck-Ragle)Read to you on the day of your memorial service by Mommy & Daddy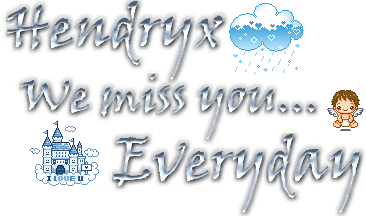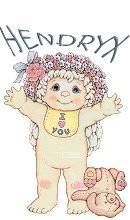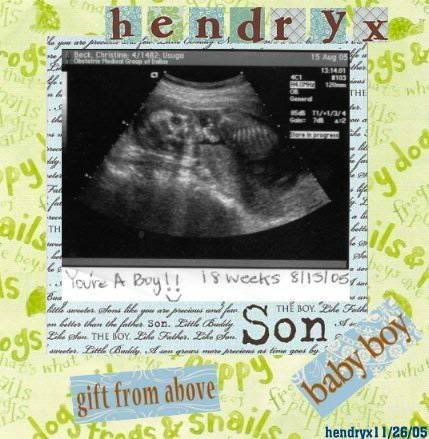 A heart of gold stopped beating


two shining eyes at rest


God broke our hearts to prove


He only takes the best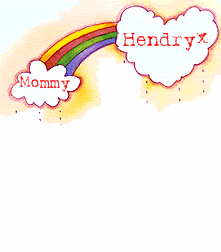 Today was supposed to be a happy day.
Instead things are far from being o.k.
Today, you were supposed to be born.
Instead I sit here, my heart broken and torn.

What happened to you, made my worst nightmare come true.
Now I feel so helpless, and I don't know what to do.
I'm sad, confused and angry, all at the same time.
I feel cheated and robbed, like the victim of some horrible crime.

Why didn't they watch you better to make sure you were alright?
Are they responsible for letting you die that night?
Having to deliver you was a bad dream, all to real.
This wasn't supposed to be part of the plan, part of the deal.

Knowing I wouldn't hear you cry or even see you open your eyes.
How could this happen, Why God, why?
You should be here in my arms, while I rock you to sleep.
Instead my arms are empty, they ache, and I weep.

My son, I miss you today and I love you today,
Forever and always Hendryx, EVERYDAY!
~Written by Mommy~
(Christine Beck-Ragle)
12/28/2005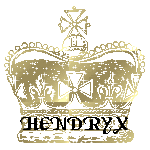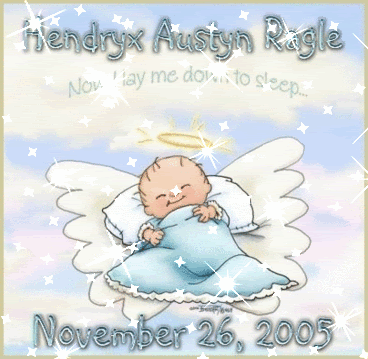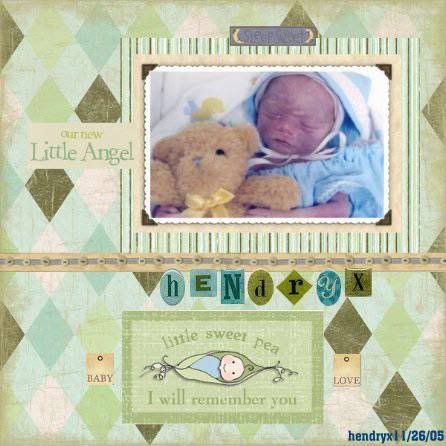 It's lonely here without you,
We miss you more each day,
For life is not the same to us,
Since you were called away.





To your resting place we visit,
Place flowers there with care,
But no one knows our heartache,
When we turn and leave you there.
~Author Unknown~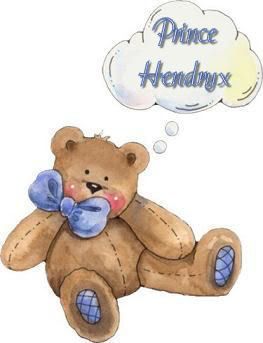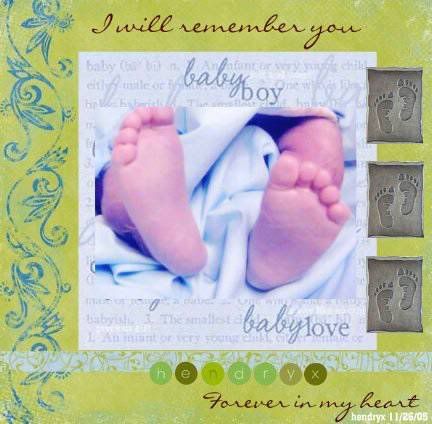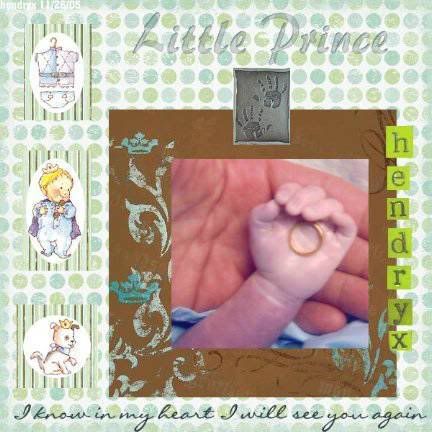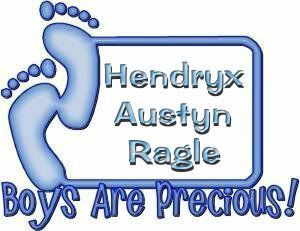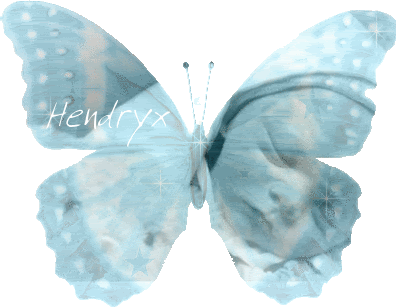 The Cord


We are connected, my child and I
by an invisible cord not seen by the eye
It's not like the cord that joins us til birth
this cord can't be seen by an eye on earth

This cord does its work right from the start
it binds us together attached to the heart
I know that it's there though no one can see
the invisible cord from my child to me

The strength of this cord is hard to describe
it can't be destroyed, it can't be denied
It's stronger than any cord man could create
it withstands any test, can hold any weight

And though you are gone, though you're not here with me
the cord is still there, but no one can see
It pulls on my heart: I am bruised, I am sore
but this cord is my lifeline, as never before

I am thankful that God connects us this way
A mother and child, death can't take it away
~Author Unknown~


One day at a time is all I can get through,
Ever since my worst nightmare has come true.
I hope to make each day better than the last,
If only the rest of the world didn't have to move so fast.
They would be able to see the tears behind my smile,
In my shoes, they wouldn't even have made it a mile.
The pain, sadness, frustration and anger all get to me,
I'd love not to have to hear this again-It was meant to be.
So tell me, if you were me, is that what you'd want to hear?
Would those words comfort you and dry a single tear?
Be with me in my grief and let me do it in my own way,
And please have enough sense to watch what you say.
Show me the same love you showed me before,
Give me time, then give me some more.

~Written by Mommy~
(Christine Beck-Ragle)
1/2006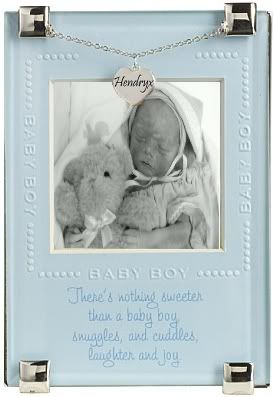 Where you used to be,
there is a hole in the world,
which I find myself constantly walking
around in the daytime,
and falling in at night.


I miss you like hell


~Edna St. Vincent Millay~




On the day that each of you
my precious babies died,
God chose to keep you
by His side.
How special and great
you must truly be,
To do God's work
rather than be here with me.
I am truly blessed to have been your mother
for a short time on earth,
And I'm so very sad
we had to say goodbye before birth.
Hard are the thoughts of you
and never really knowing,
But being your Mommy forever in eternity,
that thought keeps me going.
~Written by Mommy~
(Christine Beck-Ragle)
2/2006



This one is for all my angels in Heaven...
(Hendryx, Emersynn, Ayden and Presley )
Each of you my sweet babies have your names written down in the Book Of Life, At the Shrine of the Holy Innocents. You may view the certificates at the bottom of the screen in the slideshow.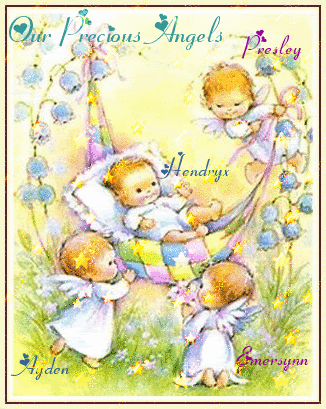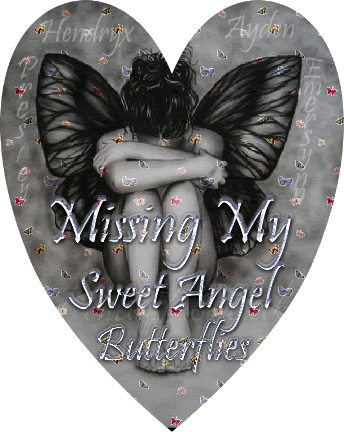 Mourn not the cacoon


The Butterfly has flown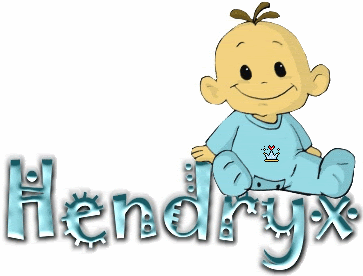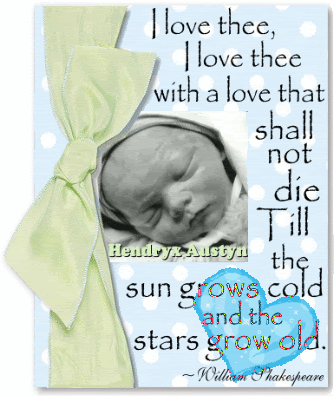 When I come home to God's eternal grace,
the first thing I want to see is your handsome face.
Our eyes will meet and the tears will begin to fall,
My arms will reach out and lovingly, your name I will call.

After a lifetime without you, we'll finally embrace,
and all the pain and sadness will completely erase.
A lifetime without you and I probably won't know what to say,
even thought I think about it each and every day.

So I'll tell you I love you and continue to stare into your eyes,
as you take my hand and give me answers to all my "Why's?"
On earth the reason was unclear and I did not see,
you were too special and God needed you more than me.

He'll say when you felt lonely, I was always near
and then he'll say what I've waited so long to hear,
Mom, every minute of everyday I have loved you
and not a moment has gone by that I haven't missed you too.

With those words I'll drop to my knees and thank God that I'm there
and thank Him for making what was once unfair, now fair.
I'll cry out, Thank you Lord, I've waited all my life for this
and He'll say, be happy child, now there's nothing to miss.
~Written by Mommy~
(Christine Beck-Ragle)
4/2006
This is what I dream about every night, ANGEL! I love you So much Hendryx! You hold the key to my heart & always will!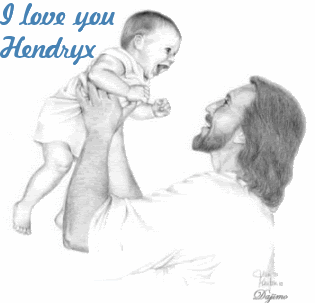 The pain passes~The Beauty remains


~Pierre-Auguste Renoir~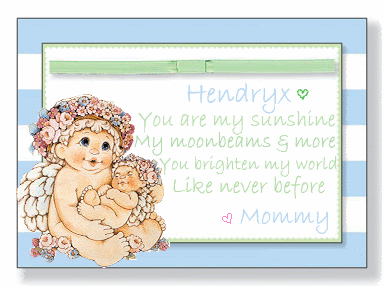 Hello Mommy,
I'm sending my love to you,
to tell you I know I'm in your thoughts,
no matter what you do.
I know your heart's broken
and I see every tear fall.
I know you don't understand now,
but I had to answer God's call.
I hear your every thought
and I see a lot of pain.
I'm there holding your hand
when you think you're barely staying sane.
I thank God everyday,
He gave me you for a mother.
Have peace knowing that someday again
we'll be with each other.
Thank you for all the love
you send me every minute of every day.
I miss you and love you too,
Happy Mother's Day!
~Written by Mommy~
(Christine Beck-Ragle)
Sending this one too all the mommies with angels in heaven.
Mother's Day 2006
My first Mother's Day without you Hendryx, I miss you & love you so very much.




Six months ago today, you were gracing heaven with your presence before I had a chance to say goodbye.
To this day I replay our final moments
and still I question God why.

Desperate, I screamed, I cried, with all my might
I tried to will life back to you.
I prayed, I pleaded, I bargained,
but there was nothing I could do.

I'm sitting here wondering why
all this feels like it happened yesterday.
Still working out all the possibilities of things I could have done instead to have made everything okay.

I see you in everything
gentle, kind, loving, beautiful and pure.
Just the thought of seeing you again helps me overcome the grief and gives me the strength to endure.

I try to envision in Heaven,
Are you still a baby, a sweet boy, or a big, strong man?
How do you spend your time,
What do you do, now that you're a part of God's plan?

My arms still ache, my heart still breaks,
and my soul still cries out for you.
You are with me baby, in every breath, every thought,
every step, in everything I do.

Hendryx, it been 180 days since you became an Angel,
I just want you to know my love grows for you still.
Handsome, you have my heart forever,
and you always, always will.
~Written by Mommy~
(Christine Beck-Ragle)
5/26/2006
It's been six months son...and I have missed you every moment that you've been gone. My heart yearns for you. I've never in my life wanted something so bad it hurts.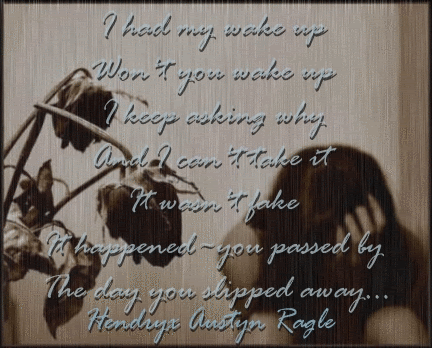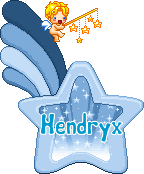 Do You hear me God,
for You my soul is calling.
I'm trying to understand, continue on,
I keep standing but yet I keep falling.

My eyes are always wandering
up to the skies above,
As I miss my son
and send him all my love.

Then my eyes close and my head falls
because my heart and soul ache so bad.
If my son were here with me,
life wouldn't be so painful and sad.

Somedays I find the easiest things
are too hard for me to do.
Sometimes I'm so lost
all I'm able to do is pray to You.

Often times I feel so numb,
dead, and empty inside.
There have been times when I've wanted to just
ignore this nightmare, run away and hide.

I think about Hendryx at six months
and the things he should be doing.
Like starting to cut his first teeth and
I think of all the things he would be chewing.

Watching him sit up on his own
and starting to roam around,
Hearing him try to say Momma or Dadda
amongst those baby sounds.

I think of how Kaytlin would answer
to his every crying demand,
and how she would be playing with him
and teaching him new things, hand in hand.

I see Daddy watching sports
and working on the car,
I think he should be right there next to him,
even though in spirit, he isn't far.

As I continue in search for answers
the days drag and last so long.
I think as if I could somehow go back in time
and magically right what was wrong.

Do I really leave justice
in Your hands Lord and let it be?
Would taking this to court really bring me any peace
and comfort me?

Lord
every inch of my being is crying,
I need your help,
Lord please know I'm really trying.

Give me strength, patience,
and help me in my faith,I need it all,
Please let those things carry me and bring me peace,
until the day I answer Your call.
~Written by Mommy~
(Christine Beck-Ragle)
6/7/2006
(Mommy misses you terribly Hendryx, I hope God hears me tonight. I love you forever Angel!)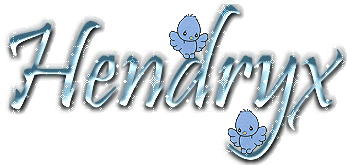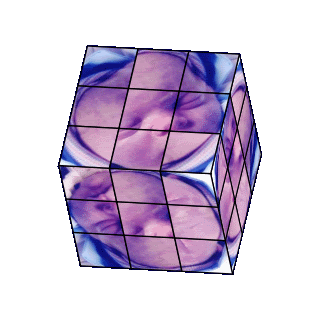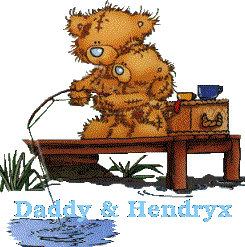 You are the best Daddy in the world by far,
I couldn't have asked for a better one, even if I wished on the biggest star.
I know you would have taught me how to be a good person and how to treat people right,
To love those that love me with all my might.
I know you really wanted to teach me about football,
How to throw, catch, tackle and how to take a fall.
You would have taught me about girls and how difficult they are quite often,
But that the love of a good woman can make any tough man's heart soften.
I know you dreamed of restoring a car with me one day when I was older,
Daddy just know that I am still learning from you because I'm always right there over your shoulder.
We'll get to do those things Daddy, after our momentary stall,
Playing, laughing, smiling, wrestling, fishing, exploring, I look forward to it all!
Daddy I love watching you and Kaytlin play,
When you two are together the giggles could last all day!
She looks up to you Daddy and I do too,
We both know that for us there isn't anything you wouldn't do.
When I was in Mommy's tummy, you helped take care of me,
Giving Mommy back rubs and foot rubs, feeding her every craving and keeping her happy.
Thank You Daddy for helping Mommy and always trying to make her smile,
You would do anything to help her in her grief, coping with your own all the while.
I just wanted to tell you Daddy, that I love you so much and I'm your biggest fan,
Happy Daddy's Day to an awesome Dadddy and a very wonderful man!

~Written by Mommy~
(Christine Beck-Ragle)
(Father's Day 2006)
(To my soul mate, my rock, the absolute love of my life....Brandon I know that Hendryx loves his Daddy very much, and I know that you love him dearly too! Happy Father's Day baby!)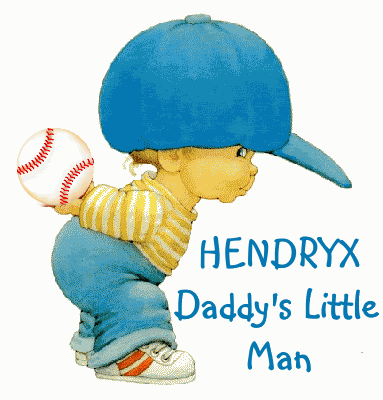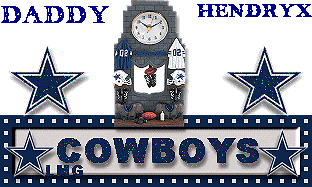 Daddy really wanted to teach you all about football, and I know you would have been a #1 Dallas Cowboys fan as well!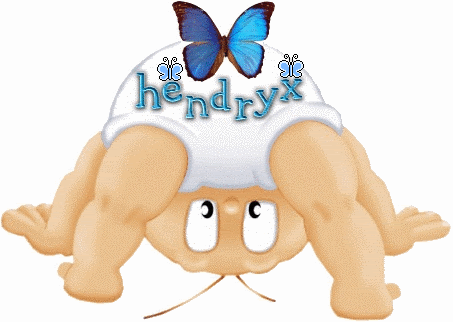 When there's light shining through the darkness,
I know it's you,
Letting me know you're alright
in the little ways you do.

When there's the coolest breeze
upon my face,
I know you are sending your love to me
from a far better place.

When I'm feeling lost
and can't find my way,
You are there holding my hand,
come what may.

The happiest times
are when I see you flutter by,
A sweet hello from,
my Sweet Angel Butterfly.

Floating so perfectly
through the air,
So gracefully and peacefully,
a little piece of Heaven you share.

Every moment that passes by,
you are in my heart,
You always will be Hendryx,
you were from the start.

You have taught me so much
in the short time you were here,
Showing me the truth to life
and that there's nothing to fear.

My Sweet Angel Butterfly,
My Sweet Forever Love,
Thanks for sharing your joy
and laughter from the Heaven's above.
~Written By Mommy~
(Christine Beck-Ragle)
8/6/2006
(I read this to you on Mommy and Daddy's wedding day, I know that you, Ayden & Presley were watching from your special seats in Heaven. Everyone saw you flutter by and were all touched by your presence! We love you so MUCH!)




Mommy and Daddy


Please don't be so sad,
I miss you so much, too.
It's beautiful here where I am,
but I worry a lot about you.

I sleep with angels watching me,
there's only love up here.
I'm never lonely or afraid
'cause God's so very near.

I walk with angels every day,
they're very kind and sweet.
Don't worry, Mom and Dad,
they hold my hand when
we cross a golden street.

I never cry or hurt myself,
I see rainbows every day.
I play and laugh and sing a lot,
and I hear you both when you pray.

Please Mommy and Daddy,
don't be mad at God,
you see, he loves me, too.
And even though you're not with me,
I'm really still with you.
~Author Unknown ~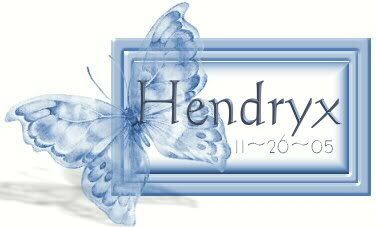 O precious, tiny sweet little one,
You will always be to me
So perfect, pure and innocent
Just as you were meant to be:
We dreamed of you and your life
And all that it would be,
We waited and longed for you to come
And join our family
We never had the chance to play,
To laugh, to rock, to wiggle
We long to hold you, touch you now
And listen to your giggle,
I'll always be your Mom,
He'll always be your Dad,
You will always be our child,
The child that we had,
But now you're gone...
But yet, you're here,
We'll sense you everywhere:
You are our sorrow and our joy
There's love in every tear.
Just know our love goes deep and strong,
We'll forget you never.
The child we had, but never had
And yet will have forever.
~Author Unknown~


You'll always be my little monkey, just because of the way you used to move around in Mommy's tummy. How I miss that and you so much!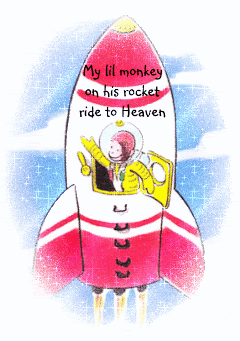 Hendryx, Mommy bought you this very toy.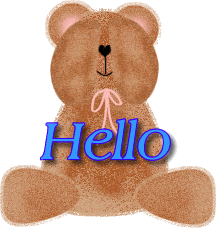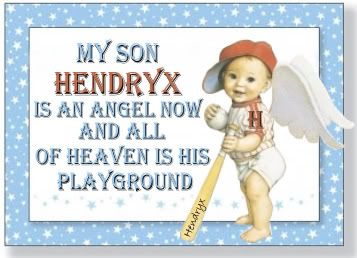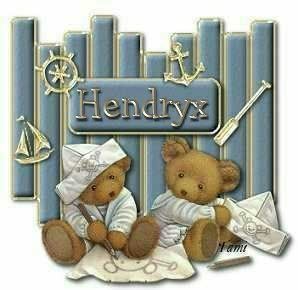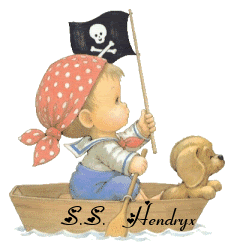 Eleven long months have passed,
My dear sweet baby boy.
The thought of you brings me mixed emotions,
Both sadness and joy.

My heart still aches so badly
Because you should be here with me.
The thought alone, of how you, my handsome son
Shouldn't just be a memory.

I constantly find myself glancing
Up above into the beautiful blue sky.
Hoping to catch a glimpse of you,
My angel, visiting me as a butterfly.

As I think of what might have been and all that could be,
The tears still flow.
The question WHY still remains and it drives me insane
That I still don't know!

I should be planning your 1st birthday party,
Getting things ready for your big day,
Instead I must think of ways to celebrate you turning one
In a much different way.

My soul smiles when I think of you,
Happily playing in Heaven above,
Basking in all the wonderful things,
Most of all receiving God's love.

Years will pass baby,
Others will let their memory of you fade,
An impossibility to me though,
For there's a deep impression that you have made.

You are my handsome prince,
My little angel and forever my son.
I love you so much Hendryx,
I miss you a ton!
~Written by Mommy~
(Christine Beck-Ragle)
(10/26/2006)


Rise and shine lil Angel, today's your day!
You're turning 1, Time to Celebrate, Hooray!!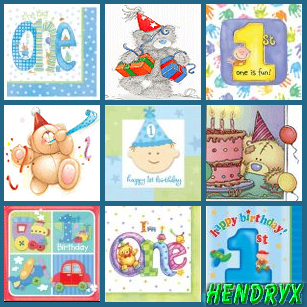 We got you a baseball cake, that we know you'll love
We will send you lots of balloons to your home in Heaven above

There are cards and a present or two
Just a little way to show how much we love & miss you!
Happy, Happy Birthday Hendryx, Our Angel Prince
We've loved you from the start and loved you ever since.


Sending all our love to where you are,
Keep shining bright Birthday star!
~Written By Mommy~
(Christine Beck-Ragle)
Hendryx's 1st Birthday/Angel Date~11/26/06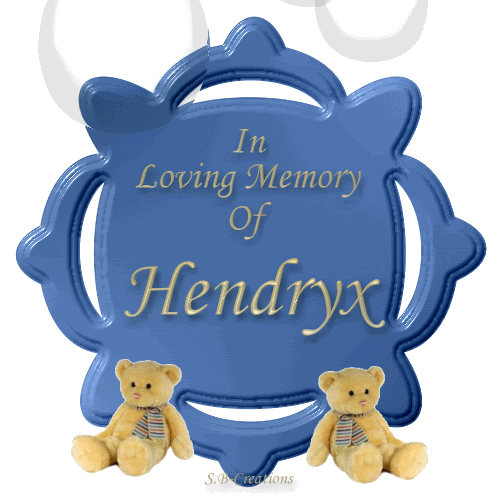 My baby boy, my dear son, it's been one year
One year that has elapsed, time much too long
Since the day you were failed by doctors and died
The day everything went out of control and horribly wrong

Everyday, every long moment that has passed
I have loved and longed for you
Every night as I lay down to sleep, I cry out
God, wasn't there something I could do

It pains me beyond belief very much so still
That I won't ever get the chance to hear you cry
Never see you smile, talk, walk or grow to be a man
Instead, left to burden the unknown, the question of Why

So many hopes, plans and dreams were created for you
Only to become a part of an awful event in my past
I still feel so numb and still feel like I'm spinning
Wondering how much more I can take and how long will it last

I keep picturing what you would be like now
My heart aches with the thought of how this is so unfair
Moving on seems so unbearable at times
Drowning in all the tears of despair

Knowing that there is still a long road up ahead
Praying that time will mend my broken heart
Just carrying with me the image of your handsome face
Believing with all my soul that one day we'll never be apart
~Written by Mommy~
(Christine Beck-Ragle)
11/26/2006
Mommy still hurts very much...
I do know things will get better...with more time...
I can't believe it's been a year!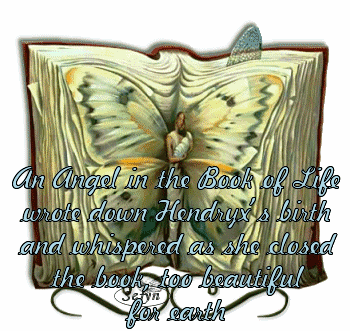 As a child I was told a lie,
that nightmares don't come true,
The lie though, became a truth
when I learned that I had lost you.

As a child I believed many things,
like a kiss could make the hurt go away.
Now I know it can't heal all wounds
some pain is just too deep and there to stay.

As a child I was told to dream big,
work hard enough, you can have anything you want.
Words I know find to be awfuly misleading
because we were so close, it's like an endless taunt.

As a child I learned to stand up after a fall,
what doesn't kill you, will only make you stronger.
This really makes no sense to me,
there are moments I feel like I can't handle it any longer.

As a child I never imagined a life like this,
feeling so incomplete because I'm half and not whole.
Learning to live without you,
all this...because of what death stole.

~Written by Mommy~
(Christine Beck-Ragle)
3/30/2007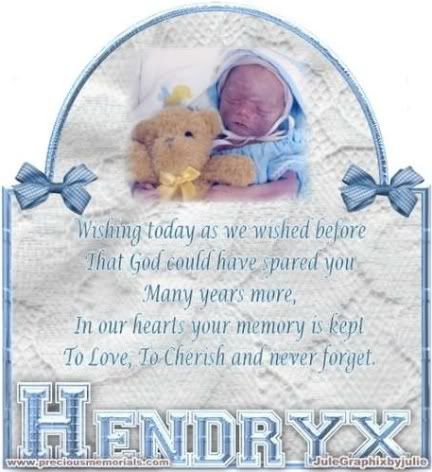 The world got colder on the day you died
Everything around was drab and dull
You brought such warmth to the world around
Your soul was kind and rare and beautiful.

My world just stopped on the day you died
I can't fathom life without you here
Why is it fate can bring bonds so deep,
And then fate can make life disappear?

I'll always remember the day you died
And that raw aching hole- you were gone
Time dulled the pain and I longed for it back
It seemed a betrayal to move on.

I wasn't prepared for the day you died
Your life slipped away much too soon
And even as time lets me laugh once again
A piece of my heart went with you.
~Author Unknown~


As long as there's a breath in me,
I will love you more and more.
Death might have taken you out of my arms,
But you're still my son, who I'll forever cherish and adore.

When I close my eyes at night,
I search for you in my dreams.
If I'm lucky to catch you there,
We can laugh as we bounce off moonbeams.

When the sun rises to start a brand new day,
My mind will drift and I'll wonder about you.
Picturing you in all of Heaven's endless galore,
And the infinite possibilities of amazing things to do.

With every breath in me, I look forward to our Someday,
When the dream lasts forever without an end.
Where I can hold you in my arms and smile,
As I feel by broken heart instantly mend.

~Written by Mommy~
(Christine Beck-Ragle)
4/23/2007


I found out I was pregnant on May 18th, 2005. Brandon and I were so happy because we were ready to add on and complete our family. We just prayed that everything would be o.k. We were a little worried because I've had two previous miscarriages. Brandon told me not to worry and keep my faith. It was hard to do, but for the most part, I did just that. Praying for the health of the baby and secretly hoping for a boy! A little brother would be perfect for big sister Kaytlin!

I'm a type 1 diabetic and considered a high risk pregnancy. I had several appointments to go to over the course of the pregnancy. That included seeing 3 different doctors. There would be a total of 44 doctor appointments. It was no big deal to me because with every check up, the baby got an a-ok! The baby was growing normally and everything looked great!

Brandon was with me on the day we found out it was a boy. It was so funny because he took one look at the baby on the ultrasound and said, "I see it...it's a boy!" Smiling from ear to ear the whole time he stood staring at the ultrasound. I was amazed that he was able to spot it out that quickly, because I didn't see what he was seeing. Then the doctor confirmed it...YES, that's definitely a boy. Congratulations, you're having a son! We were so very happy and excited and told everyone as soon as we found out! They were all excited and happy for us as well. We went out that night and bought his first couple of outfits. Then came picking out his name. I found the name Hendricks...it was a last name, and really liked the sound of it. I just didn't like the spelling. So we changed it to Hendryx. Brandon loved the name too, because it was unique. We chose the name Austyn for his middle name because that was my grandpa's middle name. Of course spelled differently though. So we had the name picked out and what a perfect name it was.

We were getting so excited to meet our little Hendryx. All the doctors appointments continued to go smoothly, never encountering any problems. I had a fetal echocardiogram done on Hendryx. The doctor told me that his heart was perfect! That everything looked perfect. Wow...that was such great news. We couldn't have been happier! We continued to shop for him and plan for him. We painted his room a light blue and put up a construction set border along the top. It was so cute. We had everything set up and ready for his arrival. The doctor told me that we would be delivering him at 36 weeks, so as not to allow him to get to big and for and easier delivery for me. That would make December 29th, 2005 his date to enter this world and into our loving arms.

I guess that wasn't to happen though because on Thanksgiving morning, everything in our lives was about to be flipped upside down and tossed into a whirlwind of emotions. I woke up feeling so sick. Couldn't stop vomitting no matter how hard I tried. I was so disappointed because I love Thanksgiving...and I'm 8 months pregnant...I want to eat! By 10 a.m. I couldn't take it anymore and asked Brandon to take me to the hospital. I was starting to worry about Hendryx. If I wasn't feeling good...he probably wasn't feeling good. Brandon asked me which hospital I wanted to go to and I said Mesquite Community Hospital...after all it was right down the road from us. That proved to be the worst mistake I've ever made in my life.


After arriving there...and waiting for half and hour for anyone to come around, they finally checked me in to the E.R. Which to this day I believe is there first mistake. They debated on whether or not to put me in the E.R. or labor and delivery. They said since I was only 8 months and not in labor to put me in the E.R. So I go there and for hours I'm running back and forth to the bathroom that was across from my room to vomit. I'm miserable, because they aren't doing a damn thing to help. I remember my parents being there with us at the time too. I don't remember too much after that because I had been loaded down with medication to subside the vomiting and who knows what else. I guess I must have been admitted into the hospital. That was on Thursday. I don't remember Friday at all. Don't know why to this day.

I do remember being woke up very early Saturday morning, the 26th of November...too my worst nightmare come true. The nurse and doctor were standing there telling me they were so sorry and they had bad news. That's when they told me that they had lost the baby. There was no heatbeat and he was dead. I can't remember if I screamed and cried or just blacked out. I remember them trying to get a hold of my doctor, but he was out of town in Venezuela. They finally got a hold of Brandon. They didn't tell him anything though but to come to labor and delivery. He thought his son was being born...so he rushed to the hospital. Walked thru the doors and could tell just by the looks on the faces of the nurses and doctors that wasn't the case. He said I was the one that told him what happened. I don't remember though. He lost it after that. He had just found out he lost his son, and finds out that I'm in a diabetic coma.

His boss and his wife were the first one's up at the hospital. My parents came next...along with other family members. They were all trying to figure out what happened and no one at the hospital could tell them. They were so dumbfounded. Brandon told me they finally got a hold of my maternal fetal specialist and he left his family vacation to come be by my side. He did his own exam and confirmed that Hendryx had died. Then he had me transferred from Mesquite Community to Presbyterian of Dallas. I was transferred by ambulance...totally unaware...apparently in very bad shape. I don't remember it at all. The next few memories seemed to happen all so quickly. I remember being in the delivery room screaming, and them telling me I couldn't have an epidural. I remember hearing them say don't push, not yet. Then I remember finally delivering him and them saying good job. I was thinking yeah good job, for what?

Hendryx Austyn Ragle entered this world bornstill at 5:06 p.m. He weighed 4 pounds and 7 ounces and was 15 1/4" tall. Then the next thing I remember is sitting up and Hendryx being placed in my arms. Oh God, what a precious sight. He was so damn perfect, and so handsome. I remember just thinking, what do I do...how can I make him wake up? He just looked like he was in a peaceful sleep. I asked when he was going to open his eyes. I hear Brandon telling me that wasn't going to happen. I counted all his fingers and toes. I lifted his hat to see if he had hair. He did, and it was so beautiful. I had the feeling of not ever wanting to let go, but I knew I had to. I just looked him over again, and tried with all my might to just burn this moment, his image, into my head, so that I wouldn't ever, ever forget this very short time I got to hold my son. I gave him a kiss and hug and told him that I would love him forever and told him goodbye. I didn't want to let go...God, it was the hardest thing I've ever had to do.

I don't have any clue what happened after that, because my next memory is from the next morning. I remember waking up and Brandon sitting next to me. I looked up at him, not wanting to face the day. He asked me if I knew where I was at. I thought that was an odd question...but I answered and said, yeah, I'm in the hospital. He asked, do you know which one? I looked at him confused and answered Mesquite Community. That's when he had to fill me in on everything that happened. I had no clue. I knew Hendryx was gone, but the rest of it, I had no idea about. I was so angry when I found out what had happened to me...what happened to Hendryx.

During my stay at Mesquite Community, they put me into a diabetic coma. They killed my son, and almost killed me too. I say the word killed, because I feel that's what they did. The only thing they did to monitor my son was come in and check his heartbeat twice. They caused my diabetic coma which in turn caused Hendryx to die. I even heard that the doctor who was responsible for all this, had the nerve to tell Brandon and my dad that it was my fault, because maybe I didn't take care of myself. EXCUSE ME??? You want to tell me 44 appointments (I didn't miss one of them) later that I didn't take care of myself!! No see, I did was I was supposed to do, YOU DID NOT. You didn't do your job as a doctor. When you go to the hospital, you expect to get better, not worse. That's all Mesquite Community did, took a situation as simple as the stomach flu and turned it into a tragic loss of a precious son.

I wanted to go see and hold Hendryx again that day...but after much consideration and thought, Brandon talked me out of it. Thinking back on it, I wish I had. I regret it to this day. I stayed in the CCU for the next couple of days and then was released into the general recovery area. Brandon took me down to see the memorial garden at the hospital for all the babies that didn't make it. It was an option for parents to place their babies after being cremated. Our first loss was placed in this garden. However when I saw it, I cried. It just wasn't right for Hendryx. I wanted him to be close to me. So Brandon and I got to thinking that maybe if my mom and dad would let us, to put Hendryx in their garden. I didn't like the idea of cremation...but I wasn't there to handle all that. Brandon took care of that with my dad. I couldn't imagine having to go and look at urns and caskets for a baby. And there he was doing it for his own son. I'm thankful that I didn't have to do that...I really don't think I could have handled it. I asked my mom and dad that night if it would be o.k. to have Hendryx in their garden. They agreed and said that they would be honored.

I got out of the hospital on the 29th of November and go home. Home with empty arms. Mom and Dad keep Kaytlin for this week as well. I just can't handle myself yet let alone for her. I didn't want her to see me like this anyways. When we got home, I wouldn't get out of the car. I just sat there crying into Brandon's arms. After about 15 minutes or so I think I finally got up. I didn't want to go into the house. I didn't want to face the place where I was supposed to walk thru the door with my son in my hands. Now I have to face the room that was ready for him. I have to look at the crib that will remain empty. I have to open the door to the closet and see the shelves lined with baby clothes, that I will never get to dress my son in, I have to see the toys that my son will never play with, the books I'll never get to read to him, the diapers that I'll never get to change. I couldn't do that the first day. We kept the door shut that day. We spent the rest of day in tears. When night time came, I couldn't sleep. I felt so cold and empty. The next day Brandon took me out and bought me a necklace with a heart locket. We decided that when we got his ashes back...that we would place some in the locket and have it sealed...so that I may carry him next to my heart always. I loved that idea. We also put the ring they placed in his hand around it.

Kaytlin came home on December 1st. We missed her and she missed us. It was a little hard getting thru it, but we were glad she was back. We even found strength somewhere in us to take her out to Planet Pizza. We wanted her to just smile and have fun...she deserved at least that much. That Saturday, just one week after losing him...we go out and pick out a rock to have him placed in. We went to a rock yard and walked around a bit. I cried the whole time...who wants to do this kind of thing??? I know I never in my life expected to. Brandon ended up finding the rock that was just absolutely perfect for him. It's Red Quartz. He saw it standing out in a pile of rocks that weren't even the same. If you look closely upon it...there seems to be an angel's wing. It was as if this rock was meant to be, and I'm glad he found it. We went to a couple of different places and picked out beautiful flowers to plant around him. Momo and Papa did everything I could ever ask for and more...they made sure it was perfect for him. We spent the rest of the day planting the flowers and by the time we were done, it was so beautiful.


We got his ashes back on Monday the 5th of December. We are there when his ahes got placed in the rock. Papa had the rock drilled out and then Daddy placed the ashes in it. It was so hard watching that. Just knowing that forever and always his ashes will be in that rock. When he should be here in my arms. On Saturday the 10th of December we hold a small memorial service for him. I made the memorial cards. It was so peaceful and nice. Brandon and I read a poem that I wrote, and Papa read one as well. I don't really know how we got through it, but we did. Brandon's boss's wife sang Amazing Grace, and it was so beautiful. We ended it with that and placed yellow roses in front of his rock. Brandon and I stood there and cried for awhile after that.


Then came the post-partum check up a week later. Which everyone was shocked that I went back to see my original doctor. Brandon was with me...and we talked with him for awhile, and basically heard a bunch of b.s. Then the shocker came when he said and I quote, "the doctor (I won't say her name) has been really depressed and she would really like to speak to you." What the hell? That's what I was thinking...I mean, she's depressed, who just lost their son here? I was in complete shock, but I agreed to meet her...because I wanted to hear from the woman that was responsible for killing my son. She came in and started in with the b.s. I told her doesn't it make since to you that if I'm vomiting to the point where I was, wouldn't that give you a hint that the baby might be sick too? Did it ever occur to you that I went to two appointments a week to be hooked up to a fetal monitor just to check on his well-being? Did that thought ever cross your mind, that just maybe you should have had me hooked up to that monitor. So you would have been able to tell if Hendryx were in trouble...and save him! Here's her reply, "I just was going to wait until you felt better and weren't vomiting so much." Well congratulations, lady, you waited too long. You killed my son, and you just admitted it.

Never in my life have I wanted to just hurt someone as bad as I did in that moment. But I guess God was holding me in his arms that day, because a sense of calming peace came over me after she said that. I decided to leave it in His hands...right then and there. It doesn't mean I didn't wish the worst possible thing to happen to her...sometimes I still do. Out of anger, because of her, we are suffering the loss of our son, and coping with moving on without him. I want revenge...but it's just not up to me to do. Nothing that I can do would bring Hendryx back to me. Believe me...if a lawsuit could do that, I would do it without blinking an eye. I would do anything to have Hendryx here in my arms.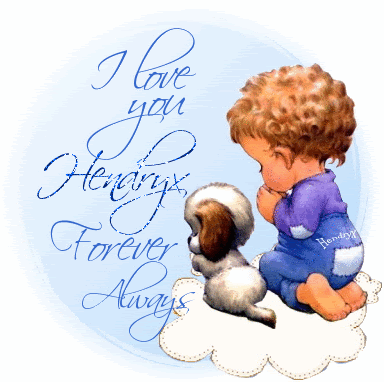 -Quoted in, The Angels Little Instruction Book
by Eileen Elias Freeman (1994)-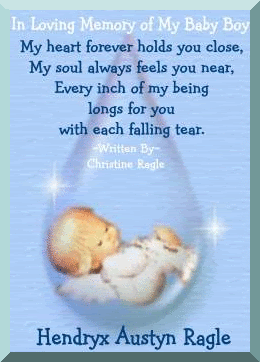 There are things that we don't want to happen


but have to accept


things we don't want to know


but have to learn


and people we can't live without


but have to let go



Please take a minute to visit one very sweet angel Princess, who I believe with all my heart helps to take care of Hendryx in Heaven. Her Mum, is an Angel here on earth who has helped me so very much in my times of grief. I thank her from the bottom of my heart!

http://laura-porter-1995-2005.memory-of.com/about.aspx



There's Hendryx giving Laura a sweet angel kiss!! XO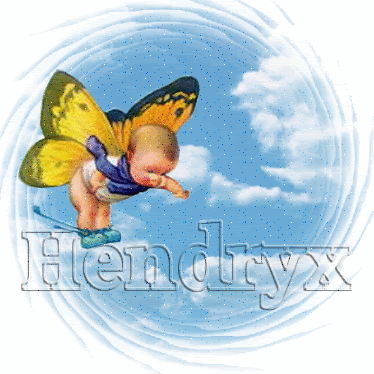 | | |
| --- | --- |
| Tributes and Condolences | |

happy valentines day


HEY SWEETIE JUST WANTED TO GIVE SOME THINGS FOR VALENTINES DAY HOPE YOU ENJOY YOUR GIFTS WE LOVE YOU AND WE MISS YOU KEEP WATCHING OVER MOMMY,DADDY YOUR BIG SISTER,AND LITTLE BROTHER GIVE ZANDER A HUG FOR ME.LO... Continue >>

A Belated Christmas Greeting


The love we feel for our AngelsWishing they were hereIs not only at Christmas timeBut throughout the yearSpecial times tug at our heartsWhere our angels now liveWe try to get through the seasonUntil there's no more to giveBut Love never diesJus... Continue >>

MERRY CHRISTMAS MY DEAR SWEET BABY BOY!!


Hendryx, My dear sweet baby boy!! How I miss you so! I just got done setting up all the presents and getting everything ready for in the morning. I was happy with the way everything turned out and your little brother stayed in bed!! Then... Continue >>

always thinking of you sweetpea xxx




your xmas present xx



for xmas for you sweetyxx Read >>
MERRY CHRISTMAS HENDRYX♥ WENDY&SARAH Read >>
MERRY CHRISTMAS LOTS OF HUGS WENDY AND SARAH Read >>
A Blessed Christmas To You & Your Family Hendryx! Read >>
your xmas stockin xx Read >>
happy xmas darlin xx Read >>
Merry Christmas x Read >>
Happy Birthday Precious Baby Hendryx! Read >>
for mummy xx Read >>
Happy Birthday lil man Read >>
Hendryx's Photo Album
Hendryx Ultarsound June 7, 2005 (The first time I get to see you!)
/%=page.GetMemoryBookLinkForPageBottom()%>